How to set up Google Authenticator
This guide explains how to use Google Authenticator (GA) on the Knowledge Hub but if preferred, another authenticator app may be used. The steps taken to connect the app to the user's Knowledge Hub account should be very similar to those below.
GA is free on Android and iOS. The app has a rotating set of codes you can use whenever required and does not require a connection to the internet (or mobile service).
If you do not already have the GA app installed to your smartphone, go to the App Store or Play Store on your device.
Type 'Google Authenticator' in the search bar.

Download and install the GA app to your smartphone device.
NOTE: to use GA on your Android device, you will need Android version 2.1 or later. To use GA on your Apple device, you will need the latest operating system. 2-Step Verification must be turned on and the GA app permissions must also be 'allowed' in the settings on your device.
Once you've downloaded and installed the GA app on your device, you will need to connect it to your Knowledge Hub. To do this, log in to your Knowledge Hub account.
NOTE: you will be prompted to enter a six-digit code after you provide your email and password each time you attempt to log in to your Knowledge Hub account. Unlike an ATM PIN number for example, this code changes with every login.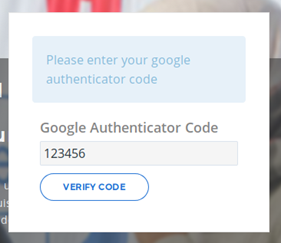 NOTE: the next two sections ('How to enable/disable 2FA on the Knowledge Hub') apply to policing users who are members of OFFICIAL groups only.