How to enable 2FA on the Knowledge Hub
NOTE: This only applies if you do not have to, but would like to, use 2FA to enhance the security of your account.
Select your name at the top of any Knowledge Hub page, which will then show you a drop-down menu.
Select the 'Settings' link (or you can select the 'Settings' tab if you are already within your profile).
Select the drop-down arrow in the blue box and select 'Two-factor authentication'.
On this page, you can complete the setup process for GA (or your choice of another authenticator).
To enable your 2FA, toggle the 'Google Authenticator' switch.

To connect your device to your Knowledge Hub account, scan your barcode with your phone or enter your secret key manually in the GA app on your smartphone.
Enter the generated code into the 'Google Authenticator Code' textbox on the Knowledge Hub.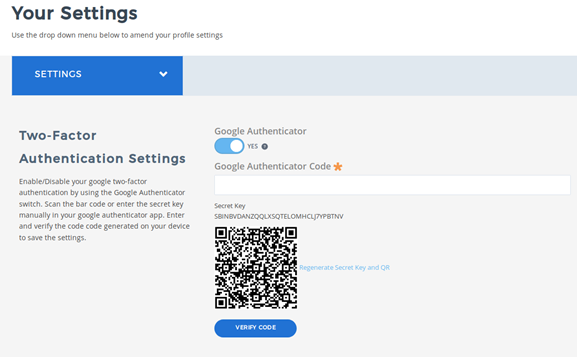 NOTE: The GA code provided expires every 30 seconds. If you try to input an expired code, the verification will be unsuccessful. You can view the life span on the right of the six-digit code provided. When the blue circle turns white, the code will refresh and you will have to enter the new code.
Select 'Verify Code' to verify your generated code.
NOTE: The GA switch will only be available to you if you are not a member of any OS groups (otherwise it will be disabled).
NOTE: with 2FA enabled, you will be prompted to enter a six-digit code after you provide your email and password each time you attempt to log in to your Knowledge Hub account. Unlike an ATM PIN number for example, this code changes with every login.